Force Majeure in Employer-Employee Relationship: A Covid-19 Reality.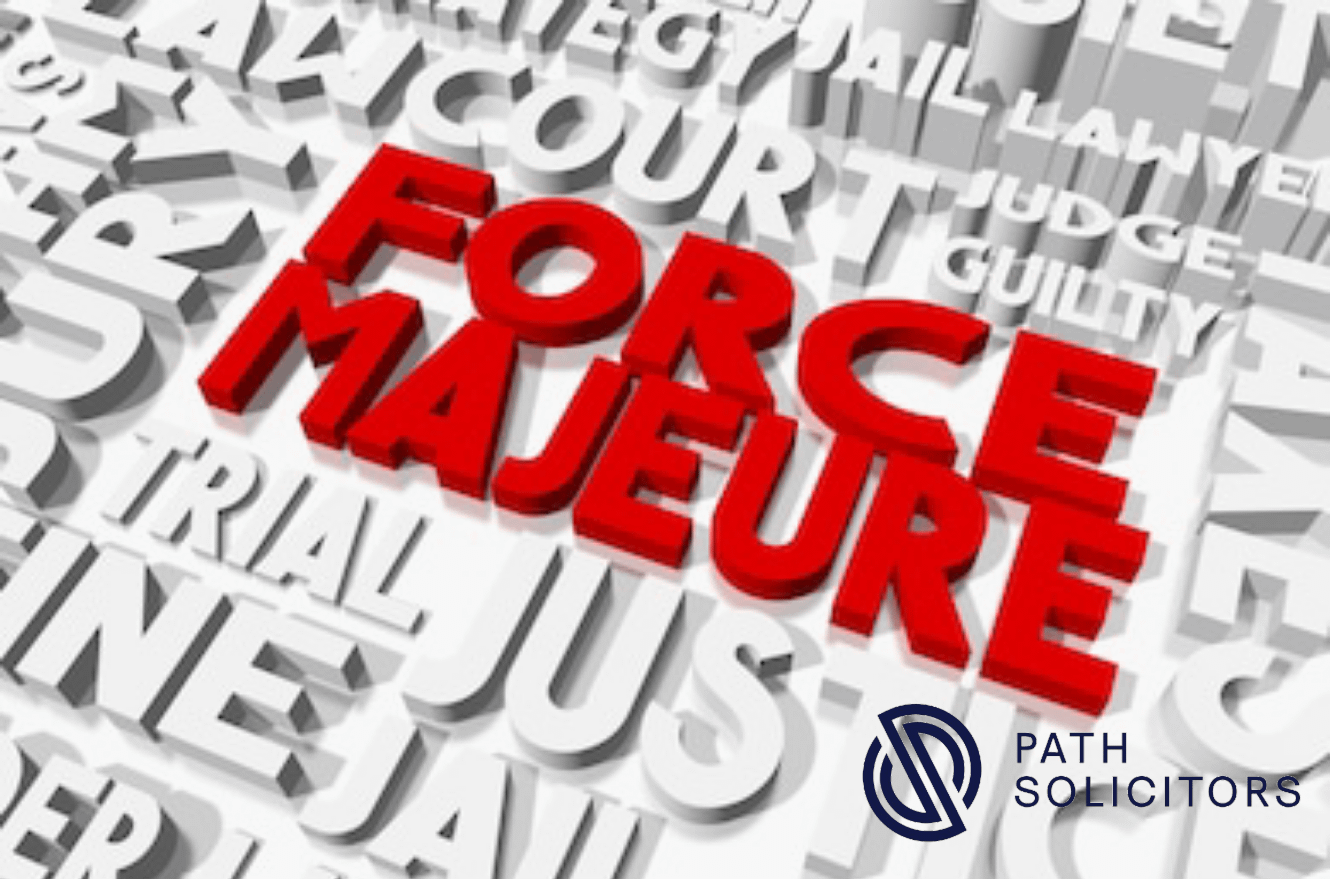 By John Demide, Esq.
Man has been plunged into a new reality, one where the regular occurrences he is accustomed to is turned over on his head. He has had economic activities halted in a bid to ensure longevity and the assurance of a possibility of living to see another day. The Nation of Nigeria was ushered into a new normal when an initial 14-day lockdown in the FCT and 2 other states in a bid to stem the COVID-19 pandemic was declared, subsequently another 14-day extension led to economic activities being shut down for another reasonable period. This shut down has no doubt wreaked havoc on the larger economy of the country and set in motion a lot of consequential job cuts, pay-cuts, businesses falling into bankruptcy and a whole dystopia of controversies bubbling up.
With these circumstances occurring around us, we are faced with the situational occurrence of an act of God or Force Majeure. The Force Majeure clauses being invoked by some employers who whimsically had the clauses included in their respective contracts without knowing what it entails in some instances now takes the fore in the current situational circumstance we find ourselves in. Can the outbreak of a Pandemic qualify as a circumstance that allows an Employer to declare Force Majeure?
What is Force Majeure?
Force Majeure is a variant of frustration, but it only applies where parties have elected to include it in their executed contract. Although its effect is broadly similar to frustration in that it exculpates the parties from breach if performance is impossible because of certain specific events, it does not necessarily terminate the contract. The contract will continue to subsist until the obligation is eventually fulfilled, in so far as it remains capable of being fulfilled. Unlike frustration, force Majeure cannot be implied or invoked where a contract does not specifically provide for it.[i]
In addition, because there is no generally accepted definition of force majeure, the words used in force majeure contract provisions are crucial, as a party will only be relieved from the performance of the obligations to the extent specifically described in the force majeure provision
In the case of Globe Spinning Mill Nig. Plc vs Reliance Textile Industries Ltd[ii]. It was held that:
"Force majeure is a common clause in contracts which provides that one or both parties can cancel a contract or be excused from either part or complete performance of the contract on the occurrence of a certain specified event or events beyond the parties' control."[1]
This definition as secured from case law simply put, sets out the parameters surrounding a party's choice to withdraw from continuing with a contract. Now it can be clearly inferred from this definition that the Force majeure refers to an event or effect that can neither be anticipated nor controlled. Thus where an employer of labour seeks to rely on this clause to avoid having to pay a member of staff, or down-size his workforce as a result of an unexpected downfall of business, the question that beckons is "can such an employer be said to be going short of the law?". This poser opens the floor to review of such a scenario on a case-by-case basis.
EVENTS THAT CAN TRIGGER A FORCE MAJEURE
The Courts have over time identified certain events which can trigger a Force Majeure declaration by either or all parties to a Contract. In the reported Nigerian case of Diamond Bank Ltd V Ugochukwu, the court held that for a Force Majeure to occur there must be an event which significantly changes the nature of the contractual rights of the parties, such that it would be unjust to expect the parties to perform those rights, these include
Where the subject matter of the contract has been destroyed or is no longer available.
Death or incapacity of a party to a contract
The contract has become illegal to perform as a result of new legislation.
A contract can be frustrated by the outbreak of war.
Where the commercial purpose of the contract has failed.
War, strike, riot, crime, or an event described as an "act of God" (hurricane, flood, earthquake, volcanic eruption, etc.) were also contemplated in the case of Globe Spinning Mill Nig. Plc vs Reliance Textile Industries Ltd[iii], no doubt the COVID-19 Pandemic will come to be viewed under one of such events. Though, looking at the way the law treats every case, we understand that every case will be treated on its own merit, as the surrounding circumstances vary from case to case.
Thus in the context we look at it now, the writer would like to ask, how probable would it be for the principle of Force Majeure to be a likely defence for the Nigerian Employer in the event such an employer decides to unilaterally withhold payment to an employee and disengage same, when there is no malfeasance on such an employee's part, nor was his inability to work a direct result of his/her malfeasance or negligence as the case maybe?
FORCE MAJEURE & CONTRACTS OF EMPLOYMENT
Under the law, there is the possibility that the contracts of employment may be strictly interpreted within the confines of the clauses indicated within the terms of the contract and in a situation where the contract under reference does not expressly make provision for the occurrence or non-occurrence of a Force Majeure, such an employer stands the possibility of being thrown under the bus for their non-contemplation of such an occurrence. Generally, when the Nigerian Courts are called upon to ascertain whether a Force Majeure event has occurred, the Courts will strictly construe the Force Majeure clause in the subject-matter Contract and will not import any event not specifically mentioned therein.
It is a ground rule at law that Parties are bound by the terms of their Contract and that a Court is not allowed to import words or externalities not specifically mentioned in the Contract. It follows naturally that where the terms of a written contract are clear and unambiguous effect must be given to the contract, and it is not the duty of the Court to rewrite contracts for the parties. Union Bank (Nig.) Ltd. v. Ozigi[iv]states the general rule to be that where the words of any instrument are free from ambiguity in themselves and where the circumstances of the case have not created any doubt or difficulty as to the proper application of the words to claimants under the instrument or the subject matter to which the instrument relates, such an instrument is always to be construed according to its strict, plain and the common meaning of the words themselves.[v]
This rule is such that it protects the parties in a contract from being mischievously rail-roaded into conjectures that could be brought up to give an escape hatch for a recalcitrant party to a contract (which in this case could be the employer of labour).
FORCE MAJEURE AS IT AFFECTS EMPLOYER – EMPLOYEE CONTRACTS
Now for an employer of labour faced with the prevailing economic crunch who has been unable to generate corresponding income to sustain his/her employed labour, the question that stares them in the face, is "can an employer of Labour coming under the Force Majeure Principle, state that the COVID-19 Pandemic qualifies as an occurrence beyond the Employers reasonable control?"
Taking a strict approach to the explanation of what constitutes Force Majeure, case law has stated that a Force Majeure is something that is unexpected and unforeseen happening, making nonsense of the real situation envisaged by parties. Thus, the argument can be advanced that the COVID-19 pandemic has been seen not to be an occurrence that falls within the ambit of an employers' contemplatable capacities.
However, for an Employer to avail himself expressly of this covering, he is caught up with the rules of contract which does not expressly allow any interpretation to avail any of the parties to the contract outside the letters of the contract. Case law has gone on to state circumstances that preclude an employer from trying to use this as a shield to protect or excuse him from performing his contractual duties. They are:
Any result of the negligence or malfeasance of a party, which has a materially adverse effect on the ability of such party to perform its obligations.


Any result of the usual and natural consequences of external forces.
To illuminate this distinction, take the example of an outdoor public event abruptly called off. If the cause for cancellation is ordinary predictable rain, this is most probably not force majeure. If the cause is a flash flood that damages the venue or makes the event hazardous to attend, then this almost certainly is force majeure. Some causes might be arguable borderline cases; these must be assessed considering the circumstances.
Thus in the event that an employer expressly inserts in their employment contract instances contemplated as possible cases of Force Majeure to the exclusion of instances of Pandemics as we are in right now, it does not exclude an employer from availing itself the opportunity of taking cover under the principle of Force Majeure.
CONCLUSION
The doctrine of Force Majeure is a very important clause that must be inserted into any contract, especially a contract of employment. Because the COVID-19 Pandemic has rightly shown that the drafting of a contract of employment needs to as of right contemplate the inclusion of the clause to adequately cover both the Employer and the Employee to insulate their levels of legal exposure at varying levels.
In conclusion, in answer to the poser posed at the beginning of this article asking whether an employer could be said to be going short of the law when they choose to unilaterally cut an employees pay or disengage them without reference to any contemplatable infraction as stated in the terms of contract of employment? The answer is Yes! Such an employer will be held accountable to the full extent of the laws guiding contracts and Force Majeure cannot be availed such an employer, where not expressly stated in the contract of employment.
Please note that this article is a general discussion of law and does not constitute legal advice.
For further information on this article and area of law, please contact John Demide, Esq, mobile (+234.814.698.4343) or email john.demide@pathsolicitors.com
Path Solicitors Abuja Office: Flat 3, Plot 796/9 Oka Akoko Street Off Lagos Street, Garki II, Abuja. (+234 1 472 9890), fax (+234 1 4605092)
---
---
[i] COVID-19: An Act of God (Force Majeure or Frustration) in Law?http://www.spaajibade.com/resources/covid-19-an-act-of-god-force-majeure-or-frustration-in-law/
[ii] Globe Spinning Mills (Nig.) Plc v. Reliance Textile Industries Ltd (2017) LPELR-41433(CA)
[iii] Ibid
[iv] (1994) 3 NWLR (Pt. 333) p. 385:
[v] Ibid; Bookshop House v. Stanley Consultants(1986) 3 NWLR (Pt. 26) p. 87: African Reinsurance Corp. v. Fantaye(1986) 1 NWLR (Pt.14) p. 113 .